Sparking sustainable success
Incorporating ESG practices is about ensuring the long-term sustainability of the business as well as maintaining and winning market access. Companies that focus on environmental conservation, social responsibility, and sound governance are more likely to navigate buyers requirements rapidly and successfully.
The demands from your customers for you to demonstrate your ESG readiness for their supply chains is rapidly increasing.
Did you know that if you are a listed or unlisted SME in the UK with exposure to EU countries either directly or indirectly, you are going to be one of nearly a million UK businesses falling under the EU Corporate Sustainability Reporting Directive (CSRD) within the next 2-3 years. According to the EU, as an SME it will cost you significantly more as a % of your revenue to meet these requirements than your larger competitors.

Our analysis shows that an SME with only 4 large corporate clients responding to each one's ESG supply chain questionnaire will cost you a minimum of £20,000 per annum in time and materials.

Our inexpensive solution levels the playing field.
TDH will provide your 360º ESG baseline, showing your current status and aligning your capabilities to meet global regulatory supply chain requirements.
Demonstrating a strong ESG agenda allows companies to engage with customers on a deeper level.
You have identified your goals but UN SDG claims are frequent sources of Greenwashing

You need to set your goals against identifiable and universally accepted frameworks

You want to show real commitment, avoid any reputational risk of greenwashing 

You want to be aligned with the most current materiality frameworks as they evolve
"Socially conscious customers are more inclined to vote with their wallets… Top-line growth and cost reductions are also by-products of legitimate ESG commitments."
Retail Banker International*  July 2023
Authenticity wins new clients
Customers may believe how you treat your employees, community and the wider environment is indicative of how you will treat them. The question is how do you utilise and communicate your ESG initiatives to drive success?" – Henry McIntosh, Twenty One Twelve Founder
Stand out in a sea of sameness
ESG gives you the opportunity to materially stand out from your competitors
Storytelling content and value led communications
Product updates are overly salesy and easy to ignore.

Changing your communications to demonstrate your values and unique personality by sharing your ESG journey will be more compelling to existing and new audiences.
Introducers are integral sources of leads within financial services

Complementary but non-competitive businesses are more likely to partner with and refer to established, trustworthy firms with a strong ESG agenda
Align messaging to more specific customer segments
Being laser focused with your marketing pays dividends.

Clients want to know how financial products specifically apply to their circumstances.

By targeting groups who use ESG as part of their purchasing criteria, you can quickly win trust and generate better qualified leads.
Compete with Sustainability Leaders
Sustainability Leaders differentiate themselves in a crowded market and attract customers who prioritize ESG considerations in their decision-making.
Your current understanding of ESG is fragmented
You have developed, executed and delivered a strong ESG strategy through a series of planned and documented activities

You still have much work to do but you want a communication strategy that highlights your achievements and future ambitions in a structured and engaging format for the benefit of your stakeholders and partners
TDH will work with you to produce a comprehensive and proportionate Sustainability Report and Communication strategy.
How do our products align to your goals?
What do you want to achieve?
Every journey starts with self-awareness

"The TDH assessment questionnaire is very well constructed. It manages to be both educational and at the same time a guide for driving change in the organisation."

Elif Isgor, COO Sistem Global Danışmanlık A.Ş. Istanbul, Turkey
"Recognise Bank are very happy with our engagement with Disruption House. After undertaking the benchmarking survey, we now feel that we are in a much better position in terms of formulating our overall strategy and have a far more focused and creditable action plan in place – which we believe will make a real difference.

As well as receiving expert advice and guidance around all elements of ESG we were also pleased with external benchmarking data that we received which clearly indicates that we are making tangible progress."
Elif Isgor, COO Sistem Global Danışmanlık A.Ş. Istanbul, Turkey
Discover your current capabilities with us
ESG Health Check:
A thorough evaluation of your current sustainability practices and their alignment with global standards.

ESG Scorecard:
A detailed report highlighting your performance across various ESG parameters

Quartile Perfomance:
Understand where you stand in comparison to peers and industry benchmarks

Accredited Badge and Certificate:
Recognise and showcase your commitment to sustainability with our accredited badge and certificate.

Website Statement:
A crafted statement for your website, underscoring your dedication to ESG pricipals
Build on your self-awareness
Establish Authenticity to win and retain clients
What does this mean? 16% of UK SMES will be..this means an average of 20 hours per client request to meet demands – do it once with TDH to meet highest regulatory standards and save time and money year in year out
Educate your ecosystem around sustainability

Performance Scorecard, Benchmark and Certificate

Carbon Footprint Calculator from CYF

ESG Employee Survey

Analyst Report and debrief

Benchmark to Global Frameworks

Marketing playbook
The TDH Marketing playbook developed in partnership with a leading digital marketing agency helps you leverage your Sustainability Authenticity.
In-house teams can leverage the playbook or we can provide a managed client acquisition service.
Establish Authenticity to win and retain clients
What does this mean? Clients want trust based relationships not marketing spun gizmos…
From Capability building to transformation to Sustainability Leader
1
Starter Quiz – Managed Service
2
Performance Scorecard, Benchmark and Certificate
3
Carbon Footprint Calculator
5
Insights and Analyst Reports
6
Sustainability Statements and Reports
1
Starter Quiz – Managed Service
1

Starter Quiz – Managed Service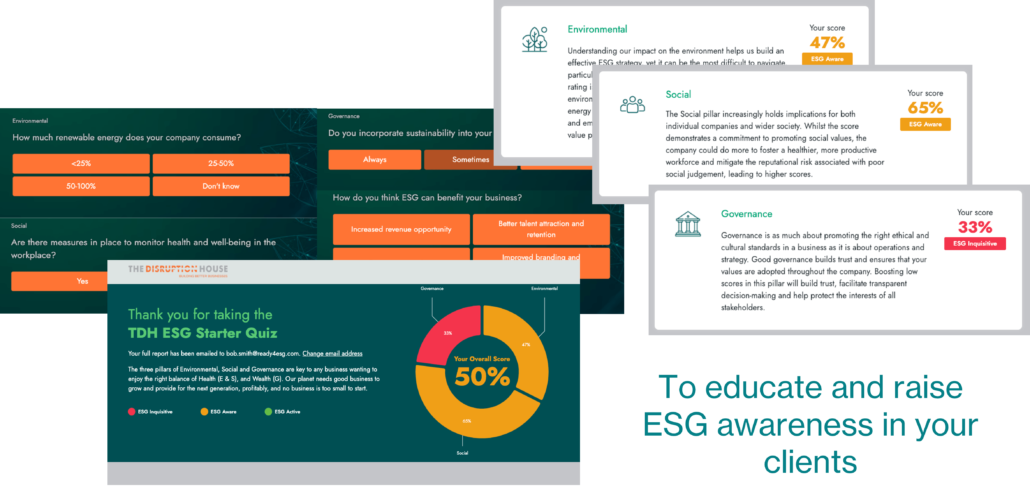 2
Performance Scorecard, Benchmark and Certificate
2

Performance Scorecard, Benchmark and Certificate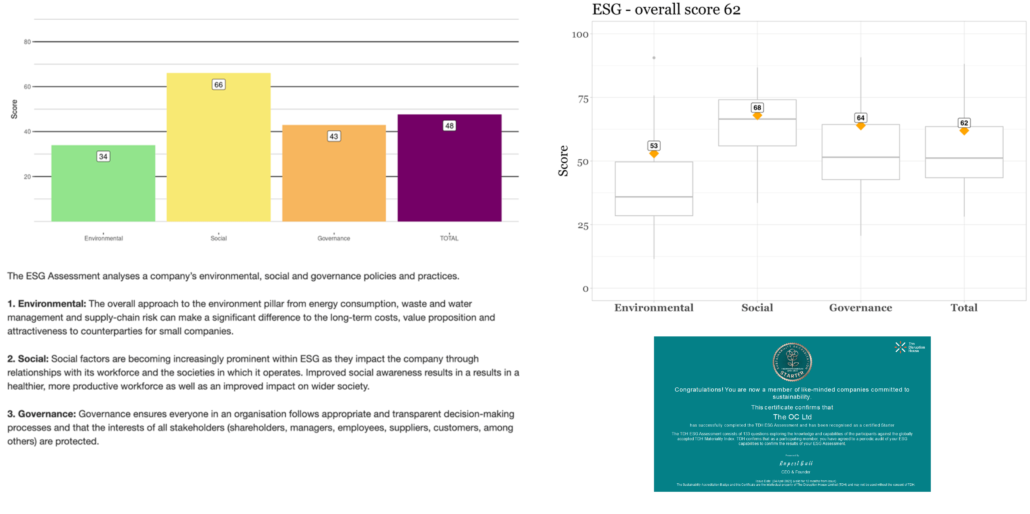 3
Carbon Footprint Calculator
3

Carbon Footprint Calculator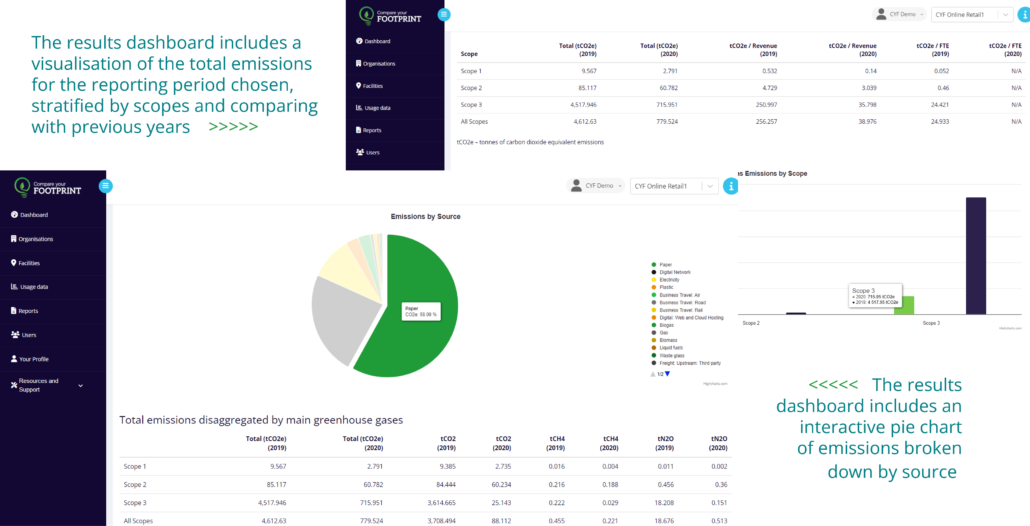 4

Employee Surveys

5
Insights and Analyst Reports
5

Insights and Analyst Reports
ClientCo's ESG score of 62 surpasses its peers, as shown below, reflecting strong ESG actions and planning. Their standout strengths lie in Sustainability, ESG Policies, and both Environment and Governance pillars. Despite companies of similar maturity usually scoring lower in Environment, ClientCo's score of 53 is notable. By prioritizing emissions reduction, they can further excel in Sustainability.

Insight reports are mapped to EU supply chain disclosure regulations:

Analyst reports map your capabilities to UN SDG GCIs and GRI and SASB Materiality frameworks:
6
Sustainability Statements and Reports
6

Sustainability Statements and Reports
| | |
| --- | --- |
| A Sustainability Report that has been validated by TDH removes risk of Greenwashing and increases stakeholder engagement. | |
How do our plans support your Business Goals?
Our Scorecard – generated from detailed analysis of key metrics and models tailored to help businesses like yours – helps you to Discover, Plan and Transform your sustainability strategy. Whether you're just starting out on the journey, curious to know how you can make a difference, or seeking to advance your sustainability agenda to the next level, TDH can support you. Our services range from speedy, entry-level ESG awareness surveys for your supply chain to full strategic reports and advice on building your ESG profile, including employee engagement and feedback.
Run an ESG Health Check on my Business
Build ESG Capability/Be Supply Chain Ready​
Establish your ESG Authenticity and Win Clients
Compete with Sustainability Leaders
The complete diagnostic solution to help you discover your current levels of ESG awareness and capabilities, with a self-service guide to help you identify quick wins to begin or develop your ESG journey.
The essential solution to build your ESG capabilities, become supply chain ready and start to attract staff and customers impressed by your early commitment to sustainable business practices.
Achieve stronger impact from your ESG foundations. Engage and inspire your workforce. Enhance and protect your reputation and avoid greenwashing risks by benchmarking your organisation to the United Nations' Sustainable Development Goals (UN SDGs). Create an ESG strategy that is easy to implement and communicate to all stakeholders. Leverage your authenticity to win new clients.
Attract impact focused clients and investors in a time and cost-effective way. Build upon your TDH Transform-powered strategy to create and publish your Sustainability report. Leverage our Sustainability Report templates to rapidly build a world-class and proportionate report that puts you ahead of your competitors