Are you one in a million?
The chances are that if you are a listed or unlisted SME in the UK with exposure to EU countries either directly or indirectly, you are going to be one of nearly a million businesses affected by Europe's expanding corporate sustainability disclosure standards within the next 2-3 years…either as a result of mandatory requirements due to your size thresholds, or 'voluntarily' because you are part of a supply chain for a business that trades into the EU, or because you recognise the potential benefits that the disclosure framework brings.
Why the focus on SMEs?
In the EU, SMEs are a vital segment of the economy, employing over 100m people and generating over 50% of revenues for the zone. The same applies more or less to the UK, so without bringing the growth engine of these economies on-board, the journey to Net Zero by 2050 (both written into law now) will be extremely hard to achieve.
The initial legal directives launched by the EU to make companies produce specific, detailed sustainability information did not stretch far enough, only capturing a fraction of all companies who operate in Europe or export into Europe. For example the NFRD only applies to 11,700 of the largest 'Public Interest Entities'. The subsequent CSRD goes a bit further and applies to 49,000 companies, of which just 1,400 are listed SMEs, and this still just the tail.
According to Eurostat there are 29m SMEs in the EU, of which 700,000 employ between 10-249 people. In the UK there are 5.5m SMEs, of which according to the ONS 2.7m pay VAT or operate a PAYE scheme.

This is the tail being targeted by EFRAG's ESRS:
Our analysis suggests that the European Sustainability Reporting Standards (ESRS) are going to impact around 1 million businesses in the UK, on a mandatory or voluntary basis.
The assumptions: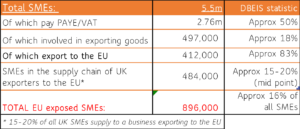 The level of disclosure requirements being formalised by EFRAG, the Reporting and Advisory Group for ESRS, are based on proportionality and vary depending on the size of your operation and whether it is a legal requirement to report, or you decide that your company's interests are best served by providing the information voluntarily.
Why do I want to report voluntarily?
The last point sounds counter-intuitive: why create more work if you don't need to? Because doing a bit more work today will save doing a lot more work tomorrow. The EUs Voluntary Sustainability Reporting Standards (VSRS) currently being formalised are designed to assist SMEs in navigating the ESG landscape:
Many businesses will embrace the introduction of a single, simplified solution to providing proportionate information that is universal, measurable, comparable and acceptable to all future inbound requests from 3rd parties for sustainability information.
Establishing a type of 'Single Sign-On' process will remove much of the administrative burden on SMEs.
The amount of information required of SMEs is then 'capped', in that they cannot be asked by customers to exceed the ESRS proposed disclosures – again significantly reducing the risk of time-sapping one-off or bespoke requests.
There is growing concern that a divide will emerge between those who provide sustainability data as a regulatory requirement, benefitting over those who do not in terms of knowledge, attracting talent in the workforce, winning contracts, and improved efficiency.
VSRS will help democratise ESG allowing all parties to benefit from an effective 'corporate health-check'.
In addition, it's likely SMEs will want to start the report process as soon as possible, knowing that their customers already have to prepare their own sustainability information. Waiting until the last minute could potentially incur unnecessary business risk.
TDH is your partner in ESG compliance. We make it easy to meet your evolving needs. Our experts provide a comprehensive range of services, from strategic advice to practical implementation, helping you to effectively manage the complexity and risks associated with ESG integration. For more information on ESG and how to incorporate it into your business click here.